It is not easy to select a topic when writing a blog post concerning the ENGAGE project, mainly because of the number of aspects that the project encompasses. From the ERTZAINTZA team, we have evaluated many options to write about:
use cases to be carried out in the project
solutions to create a better societal resilience
DEEPBLUE's visit to our premises and the work carried out in it
analyze the knowledge platform
show a bit of our procedures in disaster management
explain our meetings with TECNUM to continue advancing in the project
many other options.
Finally, we decided to highlight a fact that has come to us through ENGAGE, which is none other than EENA's Medal Of Honour For Distinguished Service During COVID-19. The reason for choosing this topic is that we, as members of the Basque Government Security Department, are proud, on the one hand, to receive such an honorable distinction and, on the other hand, to have been first-hand witnesses to the involvement and good work of all the first responders or emergency workers. We would like to join, in a way, the tribute paid by EENA to all those at the forefront of the fight against the virus.
EENA is a non-governmental organization and stands for the European Emergency Number Association. It´s mission is to contribute to improving people's safety & security and it offers a platform for improving emergency response. EENA campaigned successfully for an efficient 112 service all over Europe. Now the EENA community counts 1500+ emergency services representatives.
During this year's EENA conference "EENA´s Medals of Honor for Distinguished Service during COVID-19" were handed out to representatives of emergency services. By handing out the medals EENA is paying tribute to those who put their lives on the line to protect the health and wellbeing of the public.
For example, during the worst moments and the initial moments of this pandemic, our organization began to work side by side with the different agencies; firefighters, civil protection, health workers, operators, etc. We all had a common goal, to try to do the best we could for society, to help in any way we could. We have witnessed the involvement of many of these workers, the amount of hours dedicated to the service of the community, the many contagions that occurred within these groups. Despite a great sense of fear, people continued to come to work on the front line. Endless hours with all the equipment on, faces reflecting the marks of the masks, protective goggles, bodies completely sweaty for days of more than 12 hours with the anti-virus suit on. In a few words, we have witnessed many behaviors that are worthy of the medal of honor.

Police officers driving sanitary members through the city
As I said before to us, ERTZAINTZA, the medals of honor were given by Tatiana and Ilaria, from the company DEEPBLUE and partners of the ENGAGE project. The recognition filled us with pride and satisfaction, but even more to see that two girls who we only knew by online conference and by mail gave us the medals with a sparkle in their eyes, feeling proud to thank the first responders of the project for the work done on the front line during this pandemic. We would also like to highlight the members of EENA, partner of the consortium, Marta and Alexis, who also recognized our work, as well as that of the other end users of ENGAGE and provided us with information about the event to be held in Riga on October 6-8, 2021; EENA Conference & Exhibition 2021.
It may not be formal or appropriate to name these people, but I believe that naming some of the ENGAGE members shows that all citizens are participating in this whole story. It is about trying to help those who are less fortunate than us, all those who are more vulnerable, and that is, after all, what a resilient society should do and that is what ENGAGE aims to do: provide solutions to create more resilient societies.
We cannot forget that each of these first responders is at the same time a normal person, a citizen of this society. Some will be fathers or mothers, some will take care of a family member, some will still live with their parents,… but what is certain is that all of them have been concerned not only for all citizens but also for their loved ones. Some will have lost loved ones, others will have been infected with Covid, a few will have been seriously ill and a few have passed away. Just like any other citizen, because we are just that, one more citizen and the only thing we want is to have a better society and for that we safeguard the safety and welfare of citizens.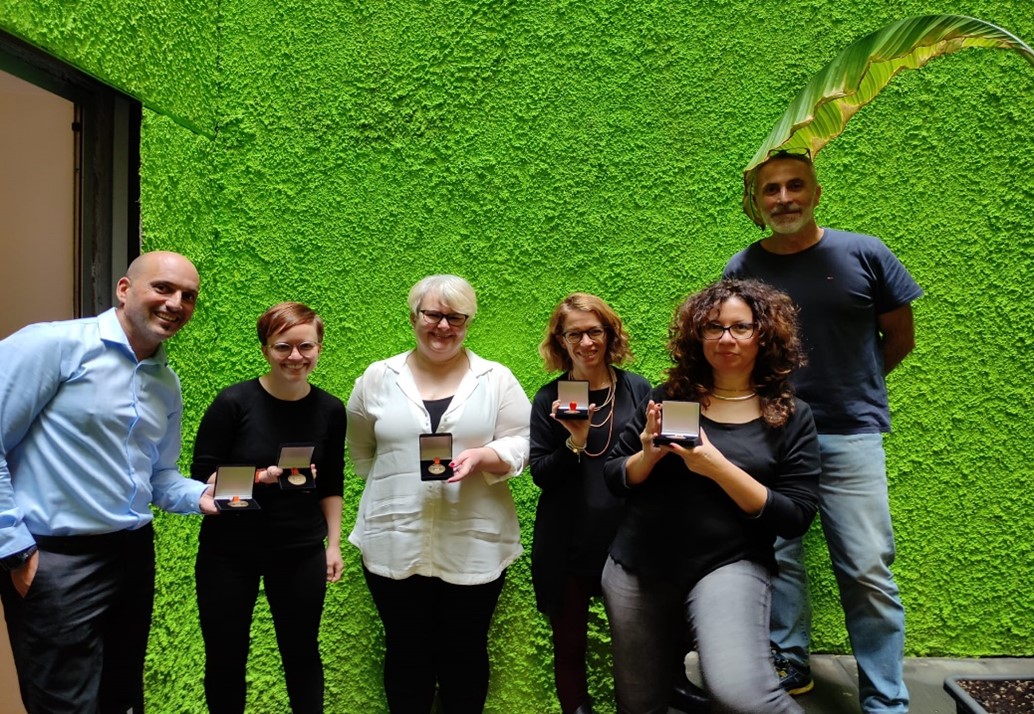 ENGAGE end users showing their medals of honor
To conclude, I want to include some comments registered in the aforementioned conference:
* Ursula von der Leyen, President of the European Union, expressed her gratitude towards the emergency services.
"We Europeans owe so much to our emergency services. This year, even more than in the past."
* Demetrios Pyrros, The President of EENA,  reiterated the symbolism of handing these distinctions.
"Medals of honor are usually the government's highest and most prestigious decoration.That's what you mean to us, and that's why we want to honor you because you are our modern-day heroes — the embodiment of courage, resilience and selflessness."
Some superheroes working
We want to show our condolences for the thousands of victims, as well as our sympathy to their families and acquaintances. You are not alone.
Author:  Jose Javier Vilarin (ERTZ)
Photo credits: ERTZAINTZA; ENGAGE project