Trondheim Red Cross is a humanitarian organization whose work is driven by a desire to help others. We are committed to, and bound by, the fundamental principles of the International Red Cross and Red Crescent Movement. Our work is volunteer-based and organized to ensure that we can reach people in need quickly and efficiently, from disaster preparedness to helping people's problems such as difficulties adjusting to a new country, getting lost when hiking and the many lonely people who simply need someone to talk to.
So, why are Trondheim Red Cross a partner in a project like Engage? Well, local disaster preparedness capacity is very important and one of the main activities for us. We want to improve local robustness and disaster preparedness by being in place before, during and after a disaster or crisis strikes.
As Norway's largest volunteer disaster preparedness organization, the Red Cross has a responsibility to ensure that our overall capacity and efforts are well coordinated with society's other resources. A Royal decree recognizes the Red Cross as a provider of support to the Norwegian authorities and we must therefore be ready to provide assistance to local authorities and the emergency services when crises strike. The Red Cross complements the local authorities' statutory health and social disaster preparedness. All Red Cross volunteers are offered basic training in physical and psychosocial first aid. We are not just on standby for extreme events. Our volunteers are there every day in all our activities, so when an unexpected incident occurs, we can mobilize a large network of volunteers. In addition to teams trained in search and rescue and physical and psychosocial first aid, our volunteers can do an important job within logistics and other practical tasks. Through daily meetings with people in vulnerable situations, our volunteers acquire unique skills that are especially important in handling difficult situations in which there is a great need for compassion. Volunteers can help with evacuations or establishing and running evacuee and family centers, and can help with everything from preparing food or talking to someone in distress. This makes a great difference in managing crises. Local cooperation agreements with municipalities provide confidence in, and a good overview of, the role the Red Cross can be expected to play in local communities. 
One of the solutions Trondheim Red Cross have presented for the consortium in Engage are The Red Cross Emergency Response Guard. This is a low threshold concept in which local branches run courses for the public in a municipality on disaster preparedness and psychosocial and physical first aid. The job of the Emergency Response Guard is to provide local communities with access to extra organized human resources who have at least some training should a serious incident occur. The volunteers receive a minimum of one evening's training per year, are registered in the Red Cross's notification systems, and are ready to assist in both the immediate and the secondary phases of a serious incident or crisis. They can perform all the duties covered by the Red Cross's mandate, principles, and guidelines. For example, emergency response guards can support the Search and Rescue Corps if the Corps is on a search and rescue operation or they can assist a local authority if a crisis occurs. 
.     
.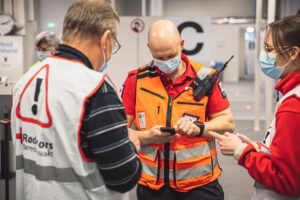 Author: Marita Hoel Fossen (Red Cross)
Photo credit should be given to A. Baatnes