Social resilience is a topic that is now more than ever on the agenda — becoming a more pressing issue with the COVID-19 pandemic and the implosion of the war in Ukraine.
What capacity to react and resist extreme events do societies have? How can their resilience be leveraged, integrated into the response efforts of public and private organisations?
These are some of the questions that our project and our sister projects propose to answer.
Our preliminary project results were presented last week on March 23rd under the Community of European Research and Innovation for Security (CERIS) umbrella. This event was organised after DG HOME proposed to several H2020 projects to join forces and co-organised a Disaster-Resilient Societies (DRS) Cluster Conference.
The event took place from the 23rd to the 25th of March and ENGAGE contributed to the first event's day on DRR INTEGRATED RISK MANAGEMENT – NATURAL HAZARDS and SOCIETAL RESILIENCE.
Our panellist Rachele Gianfranchi unfolded how technology can improve disaster management through better community engagement, including prototyping future innovative solutions based on machine learning.
Bringing real-life, mission-driven expertise in nationwide public safety communication services and critical event management, Rachele showed how her technological know-how and applied implementation experience are exploited by ENGAGE research on societal resilience.
Michael Sargeant also contributed to the Panel Discussion hosted by the DRS01 Cluster projects. Michael addressed important matters like how we can enhance cooperation between different emergency services, interoperability and standardisation and how social policies like privacy and security are implemented and deployed in technology products used nationwide.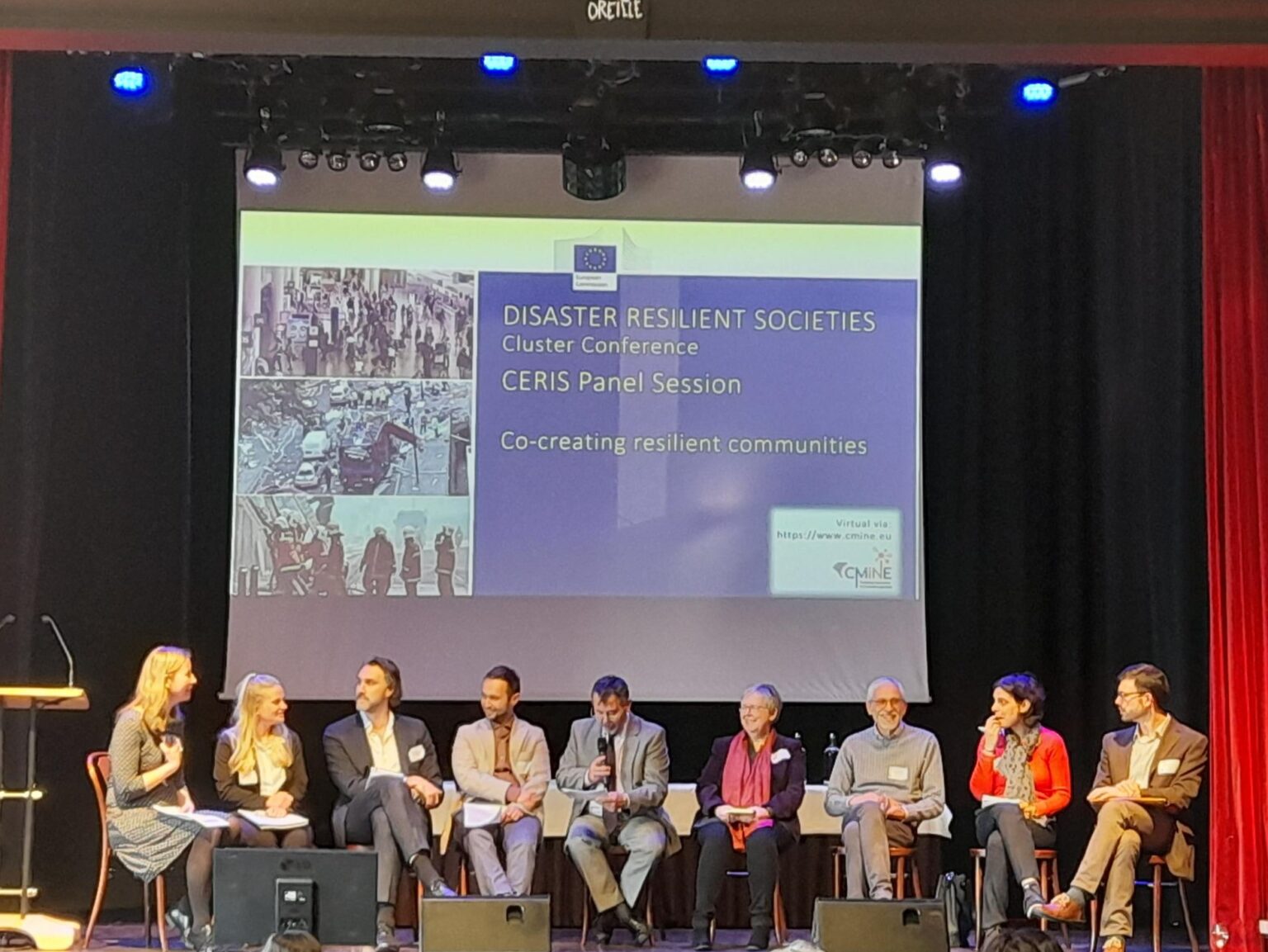 Menno Bot, Marta Azevedo Silva, David Wales and Koenraad Vogel also attended the CERIS Cluster Conference on behalf of ENGAGE. They revealed that it was an excellent initiative that shows the importance of co-collaboration in this area of research.
"Sharing the research results, know-how, reach and expertise with different H2020 projects and public and private partners showed that together can accomplish more and better project outputs."
The event opened with a general introduction of the CERIS State-of-the-Art Report by Philippe Quevauviller from DG HOME and Ivonne Herrera.
After Uberto Delprato from our sister project RESILOC Project, presented their methodology to measure resilience in a community, explaining how a weighted indicator-based process for resilience assessment can help communities improve their local disaster resilience strategies.
Then Kati Orru, from Tartu University and a member of the BUILDERS Consortium, presented how to involve vulnerable individuals in disaster risk governance by introducing their Vulnerability Assessment Tool.
Then came the LINKS project, where the researcher Anne Bach Nielsen shared her expertise in social media and Crowdsourcing in European Disaster Risk Management. She explained that technology is not helpful in itself but based on how it is used.
After this presentation, it was the turn of the projects which most recently joined our cluster.RiskPACC with Jeannette Anniés explained how facilitating collaboration between citizens and civil protection agencies to increase resilience and Paolo Capuano from the University of Salerno, on behalf of the H2020 CORE Project, explained how building a resilient society through a transdisciplinary collaboration between environmental and social science.
May we all continue to be part of and contribute to resilient societies together.
Authors: Marta Azevedo Silva (EENA) and Rachele Gianfranchi (Everbridge)